MERRY MEET AT SILKIE'S GROVE
OR SHOULD I SAY UNIVERSE...

My site is always under construction! :)
Last update October 5th, 2002.
Thanks for being patient! :)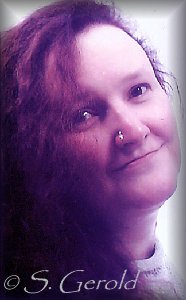 According to German law, I hereby declare
that I'm NOT responsible for the contents of any other website
that I have linked on my site!
Webmistress Silkie

I'd like to say a special thank you to Marcus Norman of Hayayoth
for giving me the permission to use the Starfall sample ( © Marcus Norman / Havayoth )
as background sound! Check out the band and their website! :) The mp3 sample takes a while
loading, therefore you can listen to it on every site I have up on this server!
Sorry it doesn't work on any of my AOL pages, there isn't enough webspace for it!

Here you find all links ( music, fantasy, esoterics, etc.) I'm intersted in and my photo galleries:
(Some is still under construction)




If you like to link me, here is a banner, please save it on your computer!
Please link to http://www.silkie.de THANKS!


MY GUESTBOOK:
Feel free to sign :)
Time to introduce myself a little bit, born 66 but age doesn't matter to me...
My starsign: Virgo, Firehorse, Pine,....
besides MUSIC my interests are:
FRIENDS & FAMILY, HISTORY, MYTHS, LEGENDS, CELTS, VIKINGS,
ANCIENTS, ESOTERICS, UNIVERSE, NATURE, ANIMALS (ESP. CATS),
TALES, FANTASY ( ESP. FAIRIES, UNICORNS, DRAGONS, ETC... ), CASTLES;
RUINS; ARCHITECTURE, POETRY, PHOTOGRAPHY, ARTS, BEING CREATIVE,
HANDICRAFTS, I LOVE TRAVELING ( ESP. TO THE NORTHERN COUNTRIES ),
BOOKS ( FAVE NOVEL "THE EIGHT" -BY KATHERINE NEVILLE ),
BEER, WINE, MET, TEA , CADLES, INCENSE, DECOS, WRITING,
MY COMPUTER; FORUMS; CHATS; FAN CLUBS AND THE WEBZINE... :)
I'm still not well into HTML, so be patient with me....!
Fancy sending me an email?


This light is burning for peace and in memories of:
My Dad, Silke, Diana, my grandma,
Olli, Kai-Uwe, Chuck, Tinka
R.I.P.